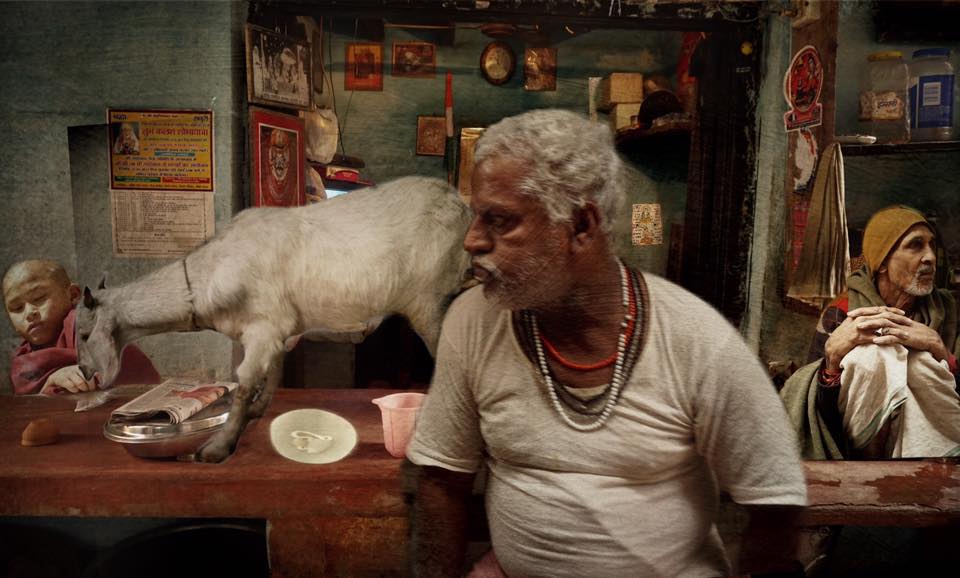 The world is seen in layers, stacking colors and ideas, shapes and patterns onto each other as if one were walking through their day with blurred vision, not taking in specifics but piecing together various parts and overlapping them, sensing what's all around us that we sometimes miss when  caught in our thoughts.  What develops is another realm of existence expressed through tonality, textures and sounds.  My composite images attempt to unveil the interaction we have with all things.  It's photography that represents my personal experience of the world.  They are stories of multiple and personal dimensions, reflecting my emotional life, my inner turmoil, my passions and my sense of freedom in the world.
EXHIBITS AND AWARDS
2017 WPGA 10th Pollux Awards, First Place Cell Phone, Honorable Mention Open Theme
2017 Mira Mobile Prize, Portugal, Shortlist
2017 McNichols Building Exhibition, Denver, May 2017
2017 Romanian Embassy in Paris, The first "rencontres francophones de la vidéo mobile".
2016 Crested Butte Wildflower Poster Winner
2016 Robert Anderson Gallery, January 29 – March 26, 2016 Denver, Co. Solo Show
2016 Open Shutter Gallery, April 2016, Durango, Co. Group Show
2015 A Small Amount of Courage, Book by Karen Divine won the Independent Publishers Award, First Place for Inspiration.
2015 Tethys Gallery in Florence, Italy, Most Wanted Visionaries
2015 International Color Award Nominee, 8th Annual, Fine Art, A Connection (Peephole Series)
2015  7th Edition Pollux Award, Runner-up
2015 7th Annual Julia Margaret Cameron Award, Finalist
2015 Soho Photo Portfolio Semi-Finalists (Peephole Series)
2015 C4FAP, Colorado, Portrait Exhibition (Debra Klomp Ching)
2014 Paris, France, l'Institut National de l'Art, Mobile Photography
2014 PH21 Gallery, Budapest, Body Exhibition
2014 Paris, France, Mobile Camera Club, "A Small Amount of Courage" Exhibition
2014 MPLS Photo Center, "A Small Amount of Courage" Exhibition
2014 Juror MPLS Photo Center, MN, iPhone Photography Contest
2014 Juror MobileMasters Contest, MacWorld 2014
2013 Mobile Master Guest Speaker and Workshop, MacWorld 2013
2013 Center for Photographic Arts, My Day Series, July 2013
2013 Art and Soul Gallery, Nudes, 2013
2012 The Dairy Center, Boulder, CO, Strange Things are Happening
2012 CFAP, Fort Collins, Illusion, August 2012
2012 PX2 Silver Award,  Altered Images Special. May 2012
2012 Prix de la Photographie First Place Fine Art Nudes
2012 3rd Edition, MJCameron Award Finalists
2012 WPGA First Place for Cell Phone Competition
2012 International Photography Awards, First Place Fine Art Nudes
2012 CFAP, Fort Collins, Juried Christopher James, Alternative Process Show, June,
2012 Eyephoneography #3, (Four International Photographers Selected) Madrid, Spain,
2012 Arthaus Gallery, San Franciscon, Mobile Photography Exhibition
2012 Orange County Center for Contemporary Art, Mobile Photography Exhibition
2012 Kai Lin Gallery, Bloom, Atlanta, GA, March
2012 Kiernan Gallery, Juried Aline Smithson, Juror's Choice Award, March
2012 MPLS Photo Center, B&W Absense of Color Juried Bevin Bering Dubrowski
2012 A Smith Gallery, Imagination, Juried Aline Smithson, Nude 30, February
2012 Kiernan Gallery, Family Dynamics Juried Henry Hornstein, January
2012 Soho Photo, NYC, Small Works Show juried by Karen Marks, Feb
2012 Artspace Gallery, Iphoneography Miami, Jan 2012
2012 WPGA Award Winners, Buenos Aires, January 2012
2012 CPAC iWorld Exhibition Denver, CO, Honorable Mention, Juried Brian Paul Clamp, NYC
2011 Cherry Creek Arts Festival, Denver, CO
2011 First International Iphoneography Show, Soho Gallery for Digital Arts, NYC, December
2011 Texas Photographic Society, Juried Members Show, Dec
2011 PhotoPlace Gallery, VT, Uncanny Surreal Photos, Juried by Rusell Joslin, Dec.
2011 International PhotographyAwards, Nominated for Discovery of the Year, The Lucies,
2011  IPA Five First Place, Two Second Place, Nine Honorable Mentions
2011 Texas Photographic Society, Juried by Dan Burkholder, First Place Iphoneart
2011 Gallery NRC, Oct, 2011, Denver, CO iphone art
2011 Boulder Arts and Craft Gallery, August
2011 Kai Lin Gallery, April and Oct 28, Atlanta, GA
2011 Berkeley's Giorgi Gallery, September 2011
2011 Prix de La Photographie, Paris, Fine Art, Non-Professional Collage GOLD Award
2011 Florida Museum of Photographic Arts, 1st Place Winner, International Photo
2011 Julia Margaret Cameron Award Finalist
2011 WPGA Annual Pollux Award 1st Place Alternative Process Single Image, 1st Place Landscape Single Image, Honorable Mention Digital Manipulation
2011 LightBox Photographic Gallery, Oregon, August
2011 RabidRabbits Gallery, July, Sept 2011, CO
2011 WPGA Annual Pollux Award 1st Place Alternative Process, 1st Place Landscape, Honorable Mention Digital Manipulation
2010 WPGA Storytelling Finalist
2010 Best of Show, Boulder Open Studios
2010 Kai Lin Gallery, October and December 2010
2010 SohoPhoto NYC, Alternative Photography Juried Exhibit
2010 Julia Margaret Cameron Award, Emerging New Artist Runner-up, Second Place Abstract and Honorable Mention Finalist
2010 Crested Butte Art Festival, August
2009 1st Place International Photo Awards, (IPA) "The Lucies" in NYC for Nonprofessional-Fine Art Collage.
2009 Prix De La Photographie Paris, Second Place Fine Art Non-Professional Collage and Honorable Mention "Portal Series"
2009 Rhonda Schaller On-Line Gallery, NYC
2008 Texas Photographic Society, Alternative Process, ATraveling Exhibition
2008 Finalist Photolucida Critical Mass
2008 Honorable Mention IPA Award in NYC for Nonprofessional-Fine Art Collage and also Abstract Awards
2007 3rd Place Winner IPA Award in NYC for Nonprofessional-Fine Art Collage and Three Honorable Mention Awards
2007 Lucille Lucas Gallery, Crested Butte, CO
2007 Blink Gallery, Boulder, CO
2007 Crested Butte Music Festival Poster Winner, July
2005 Gunnison Center for the Arts, Gunnison, CO February
2005 Pixilated Palette Show, Boetcher Hall, Denver, Co. Honorable Mention
2004 Crested Butte Mountain Resort, Cover for Treasury Magazine Anniversary Issue
2003-2006 Galeria de Arte Fotografico, San Miguel de Allende, MX
2003 Handpainted Rugs, Floorcloth Exhibit, Crested Butte Country Club, CO July
2002 Published in Popular Photography Magazine (Digital Imaging Guide) Summer 2001 and September 2002
2001 Crested Butte Wildflower Festival Poster Winner
2001 Rijks Family Gallery Show, Crested Butte, CO February
2001 Landscapes of the Imagination, Piper Gallery, Crested Butte, CO July
2001 Paragon Gallery, Guest Artist, July
1999 Emulsion Slide Transfers Piper Gallery,Crested Butte, CO September 2001,